Project Description
Located beside the Stockland shopping centre in Caloundra, the Sunseeker Caravan yard is now lit brighter than ever with a number of our new Andromeda ceramic flood lights.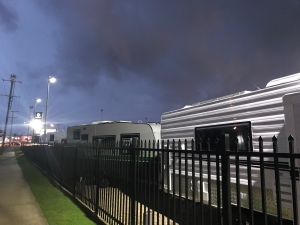 Chris from Sunseeker was keen to upgrade and improve the lighting around his yard to ensure their caravans were seen during the evening and early mornings. Due to their prominent location beside the Stockland shopping centre, the caravan yard has great frontage to shopping patrons and the main road. Our Andromeda flood lights with over 120lm/W and a variety of lens options, were the perfect solution to highlight the caravans parked along the front fence of the yard, whilst still providing enough light to the back of the yard for safe movement.
Although only 6 of the 7 units have been installed to date (due to install timeframes), the results are a big improvement. Empyrean also provided customised mounting bracket to ensure the existing poles were suitable – the previous mounting arms had sustained serious damage due to the locations proximity to the beach. Sunseeker's yard is now brighter than the neighbouring carpark drawing attention to the brightly coloured vans positioned along the fence. Chris is over the moon with the light fixtures and is keen to finish the install asap for full effect. In addition he would highly recommend making the switch to yard LED lighting!
 *Glare in above photos from Metal Halide lamps located in the neighbouring Stockland shopping centre carpark.