The Sunshine Coast offers a winning combination of location advantages including a low cost of doing business, diverse economic resource, government support and investment opportunities.
It's no wonder then that the region is experiencing robust economic growth and has the highest level of business confidence of any region in Queensland. (Westpac 2015) Of the more than 30,000 businesses operating on the Sunshine Coast, many are leading Australian exporters and contribute significantly to Australia's GDP and export credentials.
T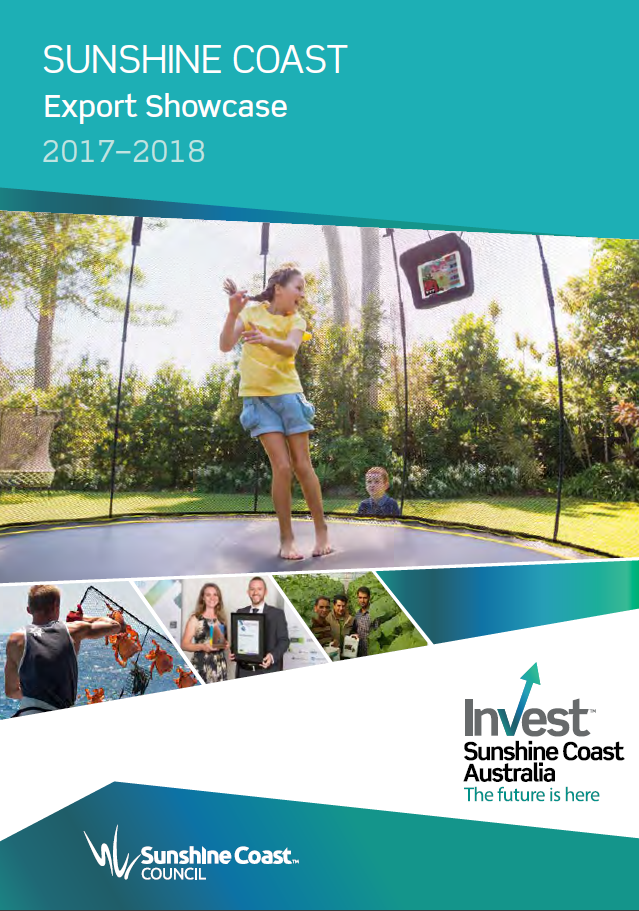 his e-book provides details of Sunshine Coast businesses which are innovating and exporting for success and growth.
Sunshine Coast Council produced this e-book as a showcase to be used by Australia's trade and investment sector – whether government or industry – to help promote the Sunshine Coast and its unique "export-ise".
A 20-YEAR VISION
In 2013, council and leading business and industry organisations on the Sunshine Coast developed "Sunshine Coast – The Natural Advantage: Regional Economic Development Strategy 2013-2033" to provide a 20-year vision and blueprint for sustainable economic growth for the region. The strategy helps ensure the region actively participates in the global economy and delivers lifestyle and opportunities for local residents and businesses alike.
The strategy will achieve four clear goals:
• $33 billion economy.
• 100,000 new jobs in high value industries.
• 20% of goods and services produced for export.
• Household incomes that exceed the Queensland average.
The strategy contains 40 actions for delivery in the first five years, including the development and implementation of Industry and Investment Plans for the seven high value industries which have the greatest potential for success in the New Economy.
The seven high value industries are: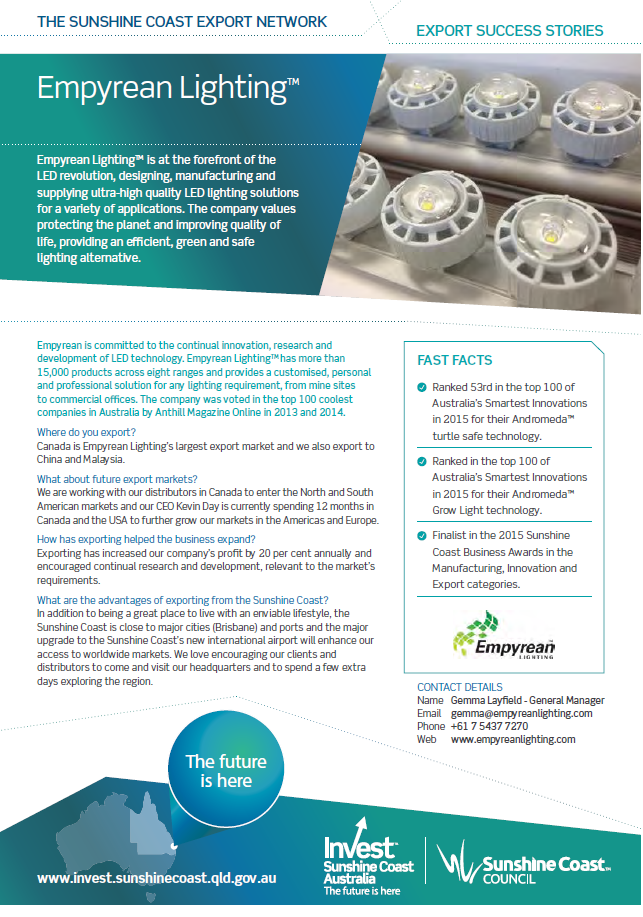 • Health and Wellbeing.
• Education and Research.
• Knowledge Industries and Professional Services.
• Tourism, Sport and Leisure.
• Aviation and Aerospace.
• Food and Agribusiness.
• Clean Technologies.
Empyrean Lighting features on page 17 of the eBook amongst many other notable Sunshine Coast companies doing big things abroad!
Click here to READ THE EBOOK.