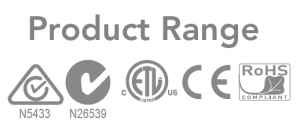 Empyrean Lighting's™ new Corona Backlit LED panel lights are ideal for new or retrofit projects requiring a high quality yet cost effective solution.
The Backlit series are available in 1200mmx300mm and 600mmx600mm models these versatile fittings as standard, Low glare (prismatic), or Cyanosis compliant for deployment in hospitals and other medical facilities where clinical observation or treatment requires compliance to AS/NZS 1680.2.5:1997. & optional smart sensor controls gear! Along with the new Backlit LED technology, Empyrean Lighting has also embraced the opportunity to introduce a motion sensor option among our Corona Backlit series. We are delighted to be able to deliver these new technologies to our client base while maintaining the lightweight design.
As standard, all Corona™ Back-lit Panels are fitted with Flicker Free Tridonic drivers for non-dimmable applications. If lighting control is required 0-10VDC or DALI options are available.
Below are a selection of samples of each product, for full product variations view the datasheet.
​
RECTANGULAR BACKLIT PANEL


1200mm x 300mm 40W – typically replaces Twin T8 Fluorescent Troffers

Available with Low Glare option

SQUARE BACKLIT PANEL


600mm x 600mm 40W – typically replaces Triple or Quad T8 Fluorescent Troffers


RECTANGULAR MOTION SENSOR BACKLIT PANEL


1200mm x 300mm 40W – typically replaces Twin T8 Fluorescent Troffers


SQUARE MOTION SENSOR BACKLIT PANEL

600mm x 600mm 40W – typically replaces Triple or Quad T8 Fluorescent Troffers

MEDICAL RECTANGULAR BACKLIT PANEL


1200mm x 300mm 40W – typically replaces Twin T8 Fluorescent Troffers – Cyanosis Compliant


MEDICAL  SQUARE BACKLIT PANEL


600mm x 600mm 40W – typically replaces Triple or Quad T8 Fluorescent Troffers – Cyanosis Compliant