As the Sunshine Coast's only four court multipurpose air-conditioned stadium, the centre now also boasts state of the art LED lighting technology to match the international standard playing surface.
The stadium is now equipped with over 100 Andromeda LED luminaires combined with DALI compatible control software to provide various levels of lighting for training, minor competition and major competition events.
Caloundra Indoor stadium plays host to many national and international sporting events every year across a variety of sporting codes including Basketball, Netball, Gymnastics and Futsal. The stadium is rarely unoccupied and required a lighting solution that would not only exceed lighting standards but involve no ongoing maintenance.
General Manager of Empyrean Lighting, Gemma Layfield was thrilled to be involved in illuminating yet another Sunshine Coast Council stadium on the back of recent installations at the Maroochydore Clippers Stadium expansion project and the upgraded stadium at the University of the Sunshine Coast.
"To ensure we could meet the stadiums various lux level requirements for each court, we completed a number of lighting designs with our fittings. Providing the stadium with the ability to choose the level of output for each court will further prolong the lifespan of the fittings and continue to reduce the energy consumption on site." said Gemma.
"Combined with DALI drivers, the units have also been married up with Systemax technology to work in with the Stadiums existing BMS system to switch between lighting levels. Our Andromeda fittings are extremely versatile and can withstand heavy levels of vibration – perfect for being hit with any kind of object!"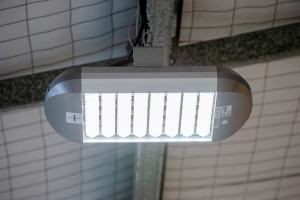 "These same luminaires have been installed across various industrial locations in SEQ including James Hardie, Sealy and VISY Industries sites".
Sunshine Coast Council's Team Leader for Indoor Leisure Centres, Steve Gurr, oversaw the project at the Caloundra Indoor Stadium. "Around 18 months ago, court 2 was retrofitted with Empyrean's Andromeda Flood lighting solution which was a great start. Since then, council have been keen to retrofit the rest of the stadium and add in some much-needed controls" said Steve.
"The installation process completed by M2 Electrical went smoothly and most importantly we are already seeing the efficiencies and cost savings by switching to LED lights. The stadium floor has also been upgraded ready for 2019 events and patrons."
Over the past 10 years, Empyrean Lighting has been designing, manufacturing and supplying cutting edge LED lighting technology from their Birtinya office. With purpose designed ranges of luminiares and an emphasis on research and development, they have become sought-after experts providing lights for everything from mining conveyors in Western Canada to aquarium luminaires for SEA Life nationally.