The Sunshine Coast Lightning's home performances in the inaugural season of the Suncorp Super Netball tournament are being illuminated by 76 highly efficient LED lights installed at USC Stadium, enabling the Lightning's home games to be broadcast to a national TV audience.

Last year, as the Sunshine Coast celebrated successfully securing its first national senior sporting side, attention quickly turned to facilities at the new team's Sippy Downs stadium, with lighting company Empyrean Lighting™ brought on board   to upgrade the venue to be 'television-ready'.
Empyrean Lighting™ Chief Executive Kevin Day explained that the company's installation helped radically improve the playing conditions for elite athletes by creating a bright and clean light, which also ensures the cameras capture every thrilling pass in the game.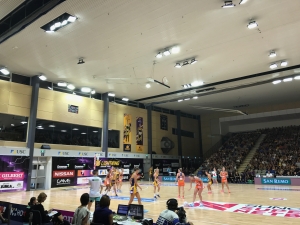 Day explained "determining the best way to illuminate a stadium to be 'TV-ready' is quite a complex process as the primary focus is to provide an environment where the cameras can record the best quality footage, thereby maximising the viewer experience at home.
"The middle of the stadium is now lit with our custom-designed Andromeda™ Flood luminaires which we have installed in a number of large arenas and industrial sites internationally.
"These lights are incredibly versatile and use 50 to 70% less electricity than high intensity discharge luminaires, which is a great outcome for stadiums which have exorbitant power bills.
"They also have the ability to withstand operation temperatures between -50°C and 55°C -not that the University of the Sunshine Coast stadium should be experiencing those extremes but it allows us to use them in mines and other extreme environments."
"We have used these luminaries throughout the James Hardie industrial facility at Carole Park, on undercover bowling greens across NSW, in warehouses for Visy in Heathwood and within two new Sealy facilities in Sydney and Perth – just to name a few.
Sunshine Coast Lightning Chief Executive Danielle Smith said the side's athletes enjoyed training and playing at a venue with world-class lighting, adding "USC Stadium underwent a redevelopment ahead of the inaugural Suncorp Super Netball competition and the players aren't the only beneficiaries. The state-of-the-art facilities are fantastic for fans and the lights help showcase this superb venue on broadcast to viewers."
Empyrean Lighting™ was also responsible for the recent lighting upgrade as part of the extensive refurbishment of the Suncoast Clippers' Maroochydore Basketball Stadium, which saw 44 Andromeda™ Low Bay luminaires installed to not only replace the existing lights on Court One but also provide illumination for two new courts.
Day explaine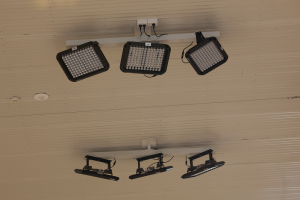 d "both stadium lighting systems have wireless controls programmable to allow lights to be dimmed or brightened depending on training and court requirements or if other sports are being played."
Suncoast Clippers President Shane Truscott is not only enjoying the improved playing conditions but also the huge savings from a reduced power bill.
He concludes "we're going to see huge savings by switching to Empyrean's LED luminaires as well as being able to provide better lit playing areas for members. It is certainly a welcome benefit for a not-for-profit organisation.
"The lighting upgrade has not only improved the playing conditions on the existing court but given the extension a clean, bright atmosphere which can be managed effortlessly from one control panel."
Empyrean Lighting has been designing, manufacturing and supplying cutting edge LED lighting technology for eight years based from their Queensland office.
With over 15,000 products available and an emphasis on research and development, they have become sought-after experts providing lights for everything from temperature-controlled growth enclosures at the Australian National University to motion sensor car park luminaires for the Sunshine Coast University Hospital.
View original article here.