Project Description
LED Lights installed throughout the car park and depot at the new Bus QLD Park Ridge facility help save costs and maintenance.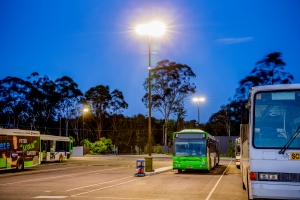 In conjunction with DMA Engineers, our LED Lights (Andromeda Park luminaires) illuminate the carpark and bus depot at the Bus QLD Park Ridge facility.
A variety of Andromeda Park LED lights were chosen for the site including 220W, 100W & 80W powers with multiple lens options for optimum distribution. The luminaires are mounted on GM poles both singularly and on double spigots to suit the lighting requirements.
The new facility looks fantastic with external fixtures and we're proud to be saving Bus QLD on electricity costs going forward.