Project Description
A new Science & Engineering precinct has been added to the Southern Cross University campus at Lismore with state of the art technology including our Corona LED Panels.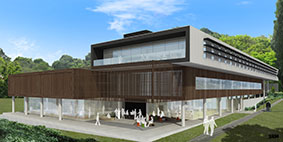 The precinct includes three research laboratories and two teaching laboratories equipped with state-of-the-art equipment which are all illuminated with our Corona Panels and scattered Vega Downlights through out Southern Cross University.
Using cutting edge LED technology in the building will ensure the University remains sustainable by requiring less energy and reducing loads on HVAC (air-conditioning systems).
Our Corona LED Panels have been mounted in a number of ways throughout the building including suspended and recessed.
"Staff at the University are pleased with both the look and lighting output of the "blades" (Corona Panels)"
– Jeff Braby, Facilities Supervisor