Project Description
The Southern Cross Health Club has officially opened the doors to their new $15 million dollar health and wellness centre in Phillip ACT featuring Empyrean's innovative Andromeda LED flood lights.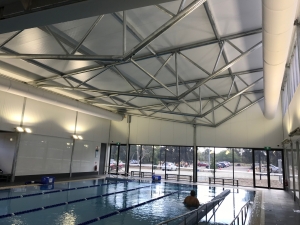 Empyrean Lighting was thrilled to be involved in the new facility and provide an effective lighting solution for their indoor pool. Designed by John Raineri & Associates and installed in March 2018, our 125W flood ceramic luminaires surround the pool and providing required illuminance through uplighting.
The design allows for easy maintenance and a low cost alternative to traditional lighting solutions. In addition our Andromeda LED Flood lights are ideal for high salinity and corrosive environments.
Aquatic Centre Case Study
Luminaires that are PERFECT for tough environments!
Finally an LED flood light range that can handle indoor and outdoor pool conditions -
Purpose designed for challenging environment with high salinity or significant chlorine levels
Robust and durable to withstand the elements
Resistant to corrosive environments proven in applications
Aquatic Centre Case Study