Project Description
Torrensville Bowls Club receives a $3.5 million dollar injection into their club to build a state-of-the-art 12 rink undercover bowling area which has been illuminated by 38 of our Andromeda LED Ceramic Flood Lights.
Empyrean Lighting had the pleasure of manufacturing Andromeda LED Ceramic Flood Lights for the new bowling dome for Torrensville Bowls Club. This bowls club is one of Adelaide's oldest and greatest lawn bowls club which is now one of Australia's most progressive club with the events they hold in the new undercover dome upgrade.
This incredible bowling club has a rich history dating back to 1904 when both the Hindmarsh and Underdale clubs merged together to form the Torrensville Bowling Club. It started from humble beginnings and has expanded to the trendsetting club as we know it today which hosts events such as Night Owl, Barefoot Bumble Bowls and Bowled Over. The Night Owl events will be well lit by our LED Ceramic Flood Lights to ensure the patrons have optimal visibility when playing.
We are honored and proud to have been apart of this historic event for the club and Torrensville area. The new facility even made the headlines for Nine News Adelaide with our LED luminaires featured in the background of the televised news report.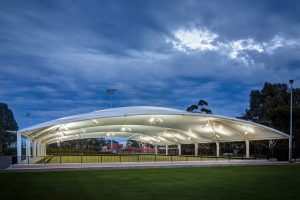 Key Deliverables: 
Eliminates maintenance costs up to 5-6 years
Contains no harmful or toxic substances
Reduces the facilities carbon footprint
Uses 50% less electricity than high intensity luminaires
Robust lights that cannot be penetrated by debris or weather elements
If you are in the Adelaide area, we strongly encourage you to set aside a few hours, enjoy the good vibes and play a game or two at this modern bowls club. You can learn all about their history and view the historic photos in the restaurant area,  click here to follow the link and find out where they are situated.