Project Description
Empyrean Lighting worked alongside our Canadian agent Prolux Lighting to provide luminaires for the extensive renovations at The Spitz Stadium – Home of the Lethberg Bulls.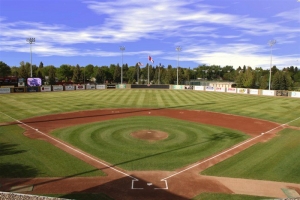 Prolux Lighting and Controls were engaged by the onsite electrician and maintenance staff to illuminate the Bull Pen area to relevant standards while working in with an existing 347v power system.
A lighting design was conducted and the luminaires were installed with custom brackets to ensure the lighting would meet all requirements including uniformity, aiming, lighting intensity and the City of Lethbridge's sustainability standards.
"It was necessary to provide high illuminance levels and uniformity for the safety of the players occupying the space, while also eliminating any light spill onto the playing field or the homes adjacent to the stadium.
Once installed, the Empyrean Andromeda luminaires performed exactly as intended, doing an exceptional job of illuminance, uniformity and cutoff; thus providing an enjoyable experience for the players, fans, and neighboring homes."  – Jamie Bartlett, Prolux Lighting & Controls.