Project Description
Empyrean has improved safety, light levels and reduced maintenance costs for IRT by replacing their street lights with Andromeda Park luminaires.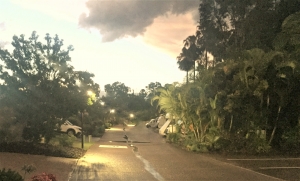 During September 2016, Empyrean and Greentech Electrical retrofitted all of the street lights throughout 3 IRT villages – Parklands (Currimundi), The Palms (Buderim) & The Ridge (Bracken Ridge). IRT are extremely happy with the results and future savings from the new lighting solution. The existing street lights were 80W circular post top which were ineffective in distributing the light evenly and in most cases shone light directly into residences.
Over the course of a few months, we replaced all 84 street lights with our Andromeda Park 30W luminiares with a wide street lens. The results are fantastic and achieve the requirements set by IRT. The lights use 62% less power than the existing solution, significantly reduce light spill into neighboring homes and provide significantly more light on the streets.
"This was a large project and covered three villages in different locations with numerous community lights. Since installation the energy consumption has reduced significantly.  The process for us was made extremely easy given their intimate knowledge and understanding of the entire energy saving costs and what was required.  Our dealings with the company were smooth and seamless right from the quoting process through the complicated path of implementation and final completion. IRT look forward to working with this company again on further projects in the near future. " – Kevin Donahoe, Regional Lifestyle Manager.
Click HERE to view our Andromeda Park datasheet.
Case Study
IRT Retirement Village
Existing Pole Top Lights were replaced by our 30W Andromeda Park Luminaires across 3 IRT Retirement Village sites around Brisbane, enhancing efficiency and reducing light spill from the street lights.
Key Deliverables:

Reduction in operational and maintenance costs
Reduction obtrusive light spill into residential homes
Increased light levels improving street ammenity
Case Study